Canada was hit much harder than us in many places, as was Maine and the Northern Tier of NY. Montreal came to a standstill several days before. Just across the border, easily 70% of the poles snapped halfway up. Transformers smashed to the ground and crossbeams hung in the wires. Some areas expect to stay powerless until mid-February (that's 6 weeks, folks!).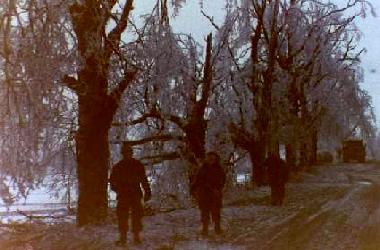 Quite a mess. At one point, we saw three dozen utility trucks and several cranes stretched along four miles of roadway installing new poles and insulators and tightening wire--very impressive site.

The good news is that the garden will get a bit more sun since the trees are considerably shorter and less bushy. Also, I figure rabbit hunting will be excellent now that they have so much brush to hide in (and breed in!).

If you come to visit us any time soon, especially on a windy day, please keep your eyes up. Many branches dangle precariously and threaten passers-by. The guardsmen in this photo saw, and heard, the danger first-hand. We thank all the men and women who came to our aid, and were our heroes.